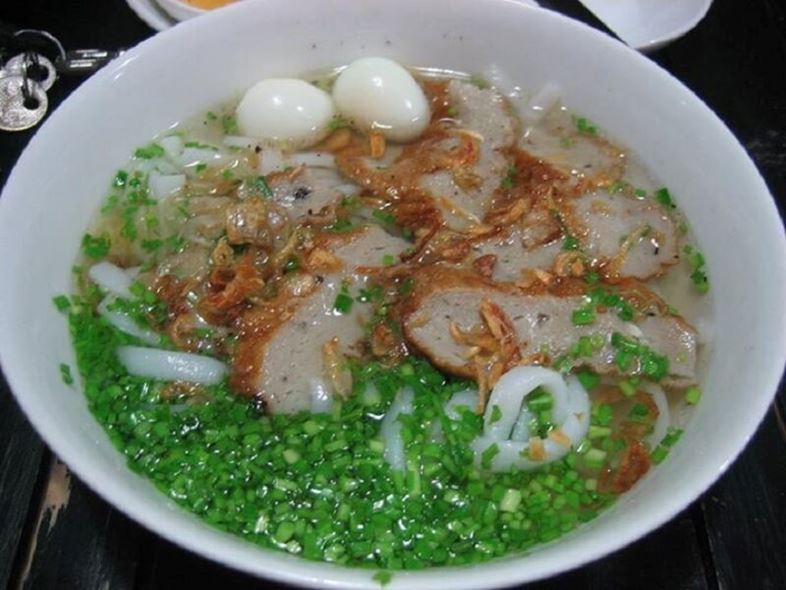 Noodle soup, shallots, fish cakes… were brought from Phu Yen to Saigon to make the dish in style, but the broth changed more or less.
Visitors to Phu Yen can easily enjoy shallot soup at any roadside shop, at any time. The dish is idyllic but requires meticulousness and meticulousness of the maker, from the cake, both to the fish cakes served with it. The dish is impressed by the color of shallots covering the whole bowl.
Not only Banh Canh has this type of shallot, but other dishes such as Wet Cake, Banh Beo, and Banh Beo also have chives fat, grilled corn with a fish sauce seasoned with shallots while other places often use onions. Chives are present everywhere as an indispensable ingredient in the cuisine of "yellow flowers and green grass".
In Saigon, there are many shops selling shallot soup with the same taste as in Phu Yen. Ms. Nguyen Thi Nam (60 years old), selling shallot soup cake on Le Thanh Tong street, Tan Phu district, is a Phu Yen resident who moved to Saigon to settle down. She said that in the countryside there is a rich source of seafood, the people who cook the soup do not use pork bones or meat-like in the city but cook with sea fish, the kind of fish when cooking the broth will have a natural sweetness, with a bit of sea aftertaste. "In addition to the sweet taste, the broth will have a slightly fishy smell of fish, put chives in to reduce that fishy smell and the dish will be more fragrant", Mrs. Nam explained the reason why the soup is covered with green chives.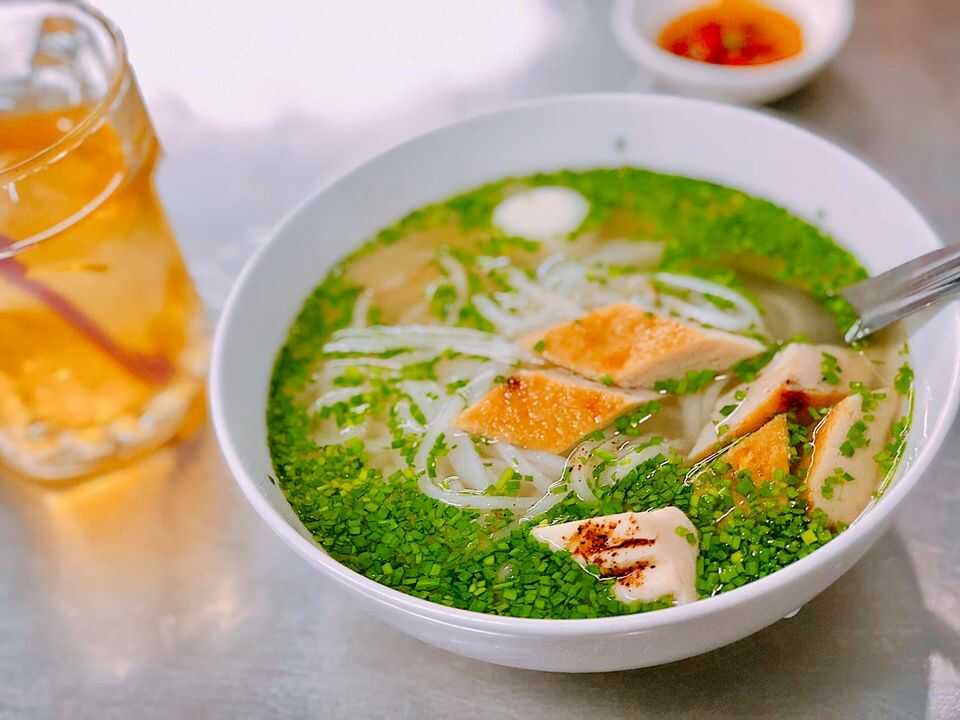 hen opening a Banh Chung shop in Saigon, Mrs. Nam still used chives with a characteristic aroma, small stalks, lint-free and green, looking like coniferous grass from afar and the scent was also stronger than those of large-leaf chives in the region. Male. The delicious chewy fish cake is marinated with spices, pounded really hard, and fried until golden brown, and the Banh Chung at home is also transported by bus to Saigon.
"Only the broth is changed, instead of cooking sea fish, I choose pork bones because I am afraid that many people do not like the smell of fish in the broth. In addition, the way of seasoning is also lighter and gives fewer chives when sold in Phu Yen," said Mrs. Nam.
Huynh Nam, a freelance tour guide from Tuy Hoa hometown, now living and working in Ho Chi Minh City, said that in Phu Yen, people do not use bean sprouts, so chives are also considered a vegetable. replace the price commonly found in Banh Chung in the South. A bowl of shallot cake soup in Phu Yen is usually quite cheap, only 10,000 to 15,000 VND and full of ingredients: Banh Canh stalks, fish cakes, quail eggs, some places also have sweet and soft fish cakes, topped with chopped shallot leaves, well sprinkled and the broth is rich, not too sweet.
In Saigon, shallot soup is quite expensive from 40,000 VND to 50,000 VND, with the same ingredients but fuller. Some small shops, on the outskirts, there are places that sell for 15,000-25,000 VND/bowl with the same quality.
𝟎𝟗𝟒𝟒.𝟔𝟔𝟓.𝟑𝟕𝟓 – 𝟎𝟖𝟓𝟔.𝟔𝟔𝟓.𝟑𝟕𝟓
SHOPEE:
https://shopee.vn/shop/308432707
SENDO:
https://www.sendo.vn/shop/banh-trang-sachi
LAZADA:
https://www.lazada.vn/shop/banh-trang-sachi-viet-nam
TIKI:
https://tiki.vn/cua-hang/banh-trang-sachi